Sparta Butterfest Parade • Sunday • 12:30pm

One of the most popular events at our Annual Sparta Butterfest is our gigantic parade on Sunday. Thousands of fans line the parade route for this special event for the entire family.

The Sparta Butterfest parade features area bands, civic organizations, area festivals, dance teams, collector cars and teams of horses.

Another worthy effort during the Sparta Butterfest Parade is the Butterfest Food Drive: The Kiwanis Club and Boys & Girls Club of Sparta will be conducting a food drive for the food pantries of Sparta during the Butterfest parade. Parade goers are asked to brink a non-perishable item(s) to the parade. Since there is always a problem keeping the pantries filled during the summer month the two organizations are asking you for your help to make sure they continue to be will stocked.

Food items that are needed include canned fruit, vegetables, soups, spaghetti sauce, chili, stew, tuna, salmon and other meat products. Dry food items such as macaroni and cheese, noodles, rice, helpers (hamburger, chicken, tuna), pasta, puddings, cake mixes and different kinds of cereal are also needed. Personal items such as razors, shampoo, toothpaste, toothbrushes, bath soap, etc. are always welcomed. Your participation in this worthwhile project will be appreciated!

If you would like to be part of this year's Sparta Butterfest Parade, click the link to the left for an entry form or contact:

Parade Chairperson
608-269-1937
PO Box 89
Sparta, WI 54656
608-269-1937
To be part of this popular parade, please return your application and entry fee postmarked by May 23rd. This allows us to develop a parade line-up and ensures that your number and other pertinent information will be forwarded to you 10-14 days prior to the parade.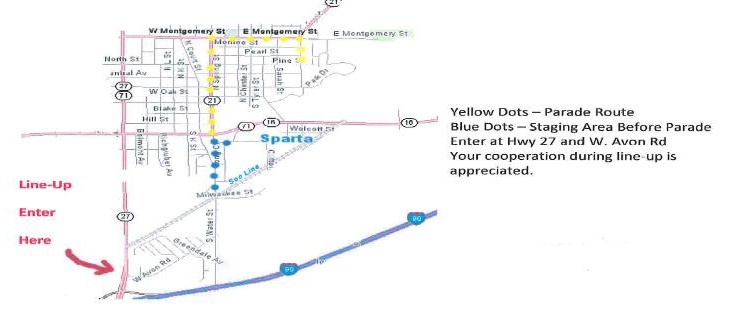 Red Arrow - entrance to parade staging area
Blue Dot - parade staging area
Yellow Dot - parade route