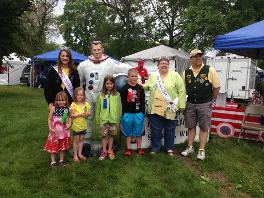 The show will take place on Fest Saturday from 12-4 pm in the grass just east of the beverage tent.
It will cost $5 to enter your special interest car or truck and each paid entry will receive a fest button and a car show decal.
There is no cost for just attending the show.
We will be collecting canned food for the local food pantry in conjunction with the show.
There will be a free raffle of baskets donated by our local car parts stores. Anybody can enter this raffle.
Five trophies will be awarded for cars that are picked by Butterfest royalty.

AWARDS FOR:
MISS SPARTA'S FAVORITE
FESTMASTER'S FAVORITE
LADY BUTTERFEST'S FAVORITE
PEOPLE'S CHOICE
We will also be inviting a few of the participating hot rodders to drive in the parade the next day as a promotion of the revived car show and to continue the collection of canned food and to hand out candy and wave alot. 🌞 Please join us!
NEARBY ACTIVITIES ALL WEEKEND LONG INCLUDE A CRAFT FAIR, FEST TENT, CARNIVAL, HUGE PARADE, AND MUCH MORE!

FOOD & DRINKS AVAILABLE ON THE GROUNDS.
EVENT Hours:

Saturday - noon - 4pm


Location:
Sparta Festival Grounds are located at Memorial Park on the corner of Rusk Avenue and Montgomery Street.
NOTE: Bringing dogs or pets on Fest Grounds is strongly discouraged. You will be responsible for any injury or damages related to your pet on the fest grounds.